The Maccabees
The Complete Collection [Cofanetto 6LP + DVD]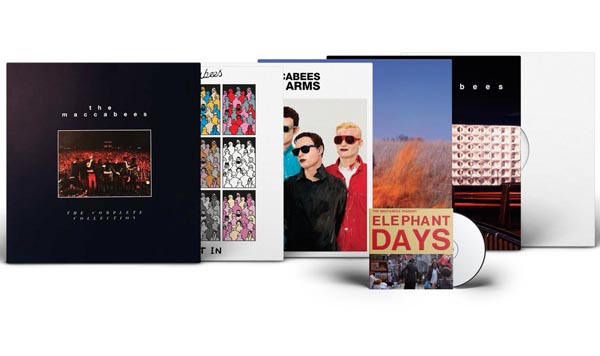 Informazioni:
Artista: The Maccabees
Anno prima pubblicazione: 2017
Etichetta: Caroline International
Numero di dischi LP: 6
Numero di dischi DVD: 1
Sito Ufficiale: www.themaccabees.co.uk
Descrizione:
"The Complete Collection" è il titolo del primo cofanetto ufficiale dell'intera discografia del gruppo indie-rock Britannico THE MACCABEES, pubblicato nell'Ottobre del 2017 su etichetta discografica Caroline International. Il Box include tutti gli album in studio (Colour It In, Wall Of Arms, Given To The Wild (2LP) e Marks To Prove It), un disco bonus con tracce inedite acustice e B-sides e infine un DVD che contiene il film-documentario sulla band intitolato "Elephant Days". In vendita il Cofanetto esclusivo che contiene 6 Vinili 180 Grammi + un DVD!
Album Tracklist:
LP 1 – Colour It In (2007)
1. Good Old Bill
2. X – Ray
3. All In Your Rows
4. Latchmere
5. About Your Dress
6. Precious Time
7. O.A.V.I.P.
8. Tissue Shoulders
9. Happy Faces
10. First Love
11. Mary
12. Lego
13. Toothpaste Kisses

LP 2 – Wall Of Arms (2009)
1. Love You Better
2. One Hand Holding
3. Can You Give It
4. Young Lions
5. Wall Of Arms
6. No Kind Words
7. Dinosaurs
8. Kiss And Resolve
9. William Powers
10. Seventeen Hands
11. Bag Of Bones

LP 3 – Given to the Wild (2012)
1. Given To The Wild (Intro)
2. Child
3. Feel To Follow
4. Ayla
5. Glimmer
6. Forever I've Known
7. Heave

LP 4 – Given to the Wild (2012)
1. Pelican
2. Went Away
3. Go
4. Unknow
5. Slowly One
6. Grew Up At Midnight

LP 5 – Marks To Prove It (2015)
1. Marks To Prove It
2. Kamakura
3. Ribbon Road
4. Spit It Out
5. Silence
6. River Song
7. Slow Sun
8. Something Like Happiness
9. WW1 Portraits
10. Pioneering Systems
11. Dawn Chorus

LP 6
1. Koya
2. The Truth
3. Nimm
4. Marks To Prove It (Acoustic)
5. Something Like Happiness (Acoustic)
6. Kamakura (Acoustic)
7. Empty Vessels
8. Bicycles
9. Just Like The Rain
10. Colour It In
11. The Real Thing
12. Young Lions (Dodworth Colliery M.W. Brass Band Rendition)
13. Can You Give It (Dodworth Colliery M.W. Brass Band Rendition)

DVD
1. Elephant Days film


Acquista il Cofanetto Nuovo Online:
Ascolta il singolo "Pelican":
Ascolta il singolo "Marks To Prove It":
Ascolta il singolo "First Love":