Bob Marley & The Wailers
Live! [Deluxe 3xLP]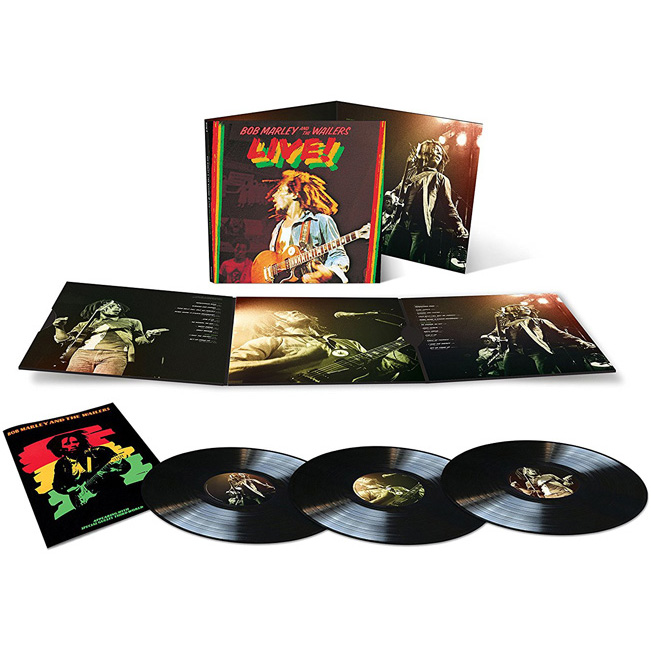 Informazioni:

Artista: Bob Marley and The Wailers
Anno prima pubblicazione: 1975
Etichetta: Universal Music
Numero di dischi LP: 3
Sito Ufficiale: www.bobmarley.com
Descrizione:

Il prossimo 16 Dicembre 2016 l'etichetta discografica Universal Music pubblicherà un'edizione inedita di "Live!", primo album dal vivo di Bob Marley and The Wailers uscito per la prima volta nel Dicembre del 1975. Questa versione deluxe contiene entrambi i concerti integrali registrati a Londra il 17 e 18 Luglio 1975, a differenza dell'originale con solo sette brani della seconda data, con in totale 22 brani (di cui 14 inediti). In vendita questa edizione esclusiva in un Triplo Vinile 180 Grammi con copertina apribile in tre lati e con all'interno la replica del programma del Tour del 1975 in Inghilterra.


Tracklist:

- Live at The Lyceum, London, 17 Luglio 1975
A1 TRENCHTOWN ROCK 5.10 +
A2 BURNING AND LOOTING 5.09 +
A3 THEM BELLY FULL (BUT WE HUNGRY) 4.35 +
A4 REBEL MUSIC (3 O'CLOCK ROADBLOCK) 5.25 +
B1 STIR IT UP 5.14 +
B2 NO WOMAN, NO CRY 7.37 +
B3 NATTY DREAD 5.27 +
B4 KINKY REGGAE 7.55 +
C1 I SHOT THE SHERIFF 5.15 +
C2 GET UP STAND UP 10.18 +

- Live at The Lyceum, London, 18 Luglio 1975
D1 TRENCHTOWN ROCK 4.23
D2 SLAVE DRIVER 4.02 +
D3 BURNING AND LOOTING 4.56
D4 THEM BELLY FULL (BUT WE HUNGRY) 3.53
D5 REBEL MUSIC (3 O'CLOCK ROADBLOCK) 5.16 +
E1 NO WOMAN, NO CRY 7.06
E2 KINKY REGGAE 6.42
E3 NATTY DREAD 4.33 +
E4 STIR IT UP 4.43 +
F1 LIVELY UP YOURSELF 7.49 ++
F2 I SHOT THE SHERIFF 7.08
F3 GET UP STAND UP 10.17 ++

+ inedito
++ versione integrale inedita

Acquista il Triplo Vinile Nuovo Online:


Guarda la presentazione di questa nuova edizione:
Ascolta il brano "Trenchtown Rock" estratto da quest'album: