Tom Petty
An American Treasure [Cofanetto 6xLP]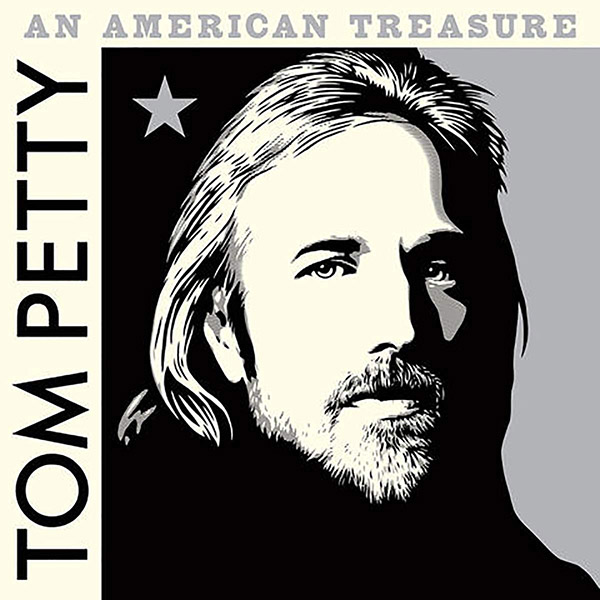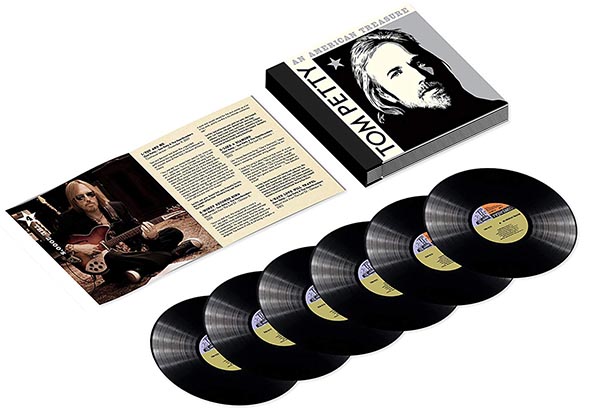 Informazioni:
Artista: Tom Petty & The Hearthbreakers
Anno prima pubblicazione: 2018
Etichetta: Reprise Records
Numero di dischi LP: 6
Sito Ufficiale: www.tompetty.com
Descrizione:
"An American Treasure" è il titolo di una raccolta ufficiale del gruppo Americano Tom Petty & The Hearthbreakers, pubblicata il 23 Novembre 2018 su etichetta discografica Reprise Records. Il Box include 60 brani mai pubblicati prima d'ora. In vendita il cofanetto con all'interno 6 vinili 180 grammi incisi ad alta qualità e un libro rigido di 84 pagine! Tiratura limitata e numerata con certificato di autenticità.
Tracklist:
A1. Surrender (Outtake, 1976)
A2. Listen to Her Heart (Live at The Record Plant, Sausalito, CA, 4/23/77)
A3. Anything That's Rock 'N' Roll (Live at Capitol Studios, Hollywood, CA, 11/11/77)
A4. When the Time Comes (2018 Remaster)
A5. You're Gonna Get It (Alternate Version, 1978)
A6. Radio Promotion Spot (1977)
A7. Rockin' Around (With You) [2018 Remaster]
B1. Fooled Again (I Don't Like It) [Alternate Version, 1976]
B2. Breakdown (Live at Capitol Studios, Hollywood, CA, 11/11/77)
B3. The Wild One, Forever (2018 Remaster)
B4. No Second Thoughts (2018 Remaster)
B5. Here Comes My Girl (Alternate Version, 1979)
C1. What Are You Doing in My Life (Alternate Version, 1979)
C2. Louisiana Rain (Alternate Version, 1979)
C3. Lost in Your Eyes (Outtake, 1974) - Mudcrutch
C4. Keep a Little Soul (Outtake, 1982)
C5. Even the Losers (Live at Rochester Community War Memorial, Rochester, NY, 9/9/89)
D1. Keeping Me Alive (Outtake, 1982)
D2. Don't Treat Me Like a Stranger (2018 Remaster) - Tom Petty
D3. The Apartment Song (Demo, 1984) - Tom Petty and Stevie Nicks
D4. Concert Intro (Live at The Forum, Inglewood, CA, 6/28/81)
D5. Kings Road (Live at The Forum, Inglewood, CA, 6/28/81)
D6. Clear the Aisles (Live at The Forum, Inglewood, CA, 6/28/81)
D7. A Woman in Love (It's Not Me) [Live at The Forum, Inglewood, CA, 6/28/81]
E1. Straight Into Darkness (Alternate Version, 1982)
E2. You Can Still Change Your Mind (2018 Remaster)
E3. Rebels (Alternate Version, 1985)
E4. Deliver Me (Alternate Version, 1982)
E5. Alright for Now (2018 Remaster) - Tom Petty
F1. The Damage You've Done (Alternate Version, 1987)
F2. The Best of Everything (Alternate Version, 1985)
F3. Walkin' from the Fire (Outtake, 1984)
F4. King of the Hill (Early Take, 1987) - Roger McGuinn and Tom Petty & The Heartbreakers
F5. I Won't Back Down (Live at The Fillmore, San Francisco, CA, 2/4/87)
G1. Gainesville (Outtake, 1998)
G2. You and I Will Meet Again (2018 Remaster) - Tom Petty
G3. Into the Great Wide Open (Live at Oakland-Alameda County Coliseum, Oakland, CA, 11/24/91)
G4. Two Gunslingers (Live at The Beacon Theatre, New York, NY, 5/25/13)
G5. Lonesome Dave (Outtake, 1993)
G6. To Find a Friend (2018 Remaster) - Tom Petty
H1. Crawling Back to You (2018 Remaster) - Tom Petty
H2. Wake Up Time (Alternate Take, 1992)
H3. Grew Up Fast (2018 Remaster)
H4. I Don't Belong (Outtake, 1998)
H5. Accused of Love (2018 Remaster)
I1. Lonesome Sundown (2018 Remaster)
I2. Don't Fade on Me (Alternate Take, 1994) - Tom Petty
I3. You and Me (Clubhouse Version, 2007)
I4. Have Love Will Travel (2018 Remaster)
I5. Money Becomes King (2018 Remaster)
J1. Bus to Tampa Bay (Outtake, 2011)
J2. Saving Grace (Live at Malibu Performing Arts Center, Malibu, CA, 7/26/06)
J3. Down South (2018 Remaster) - Tom Petty
J4. Southern Accents (Live at Stephen C. O'Connell Center, Gainesville, FL, 9/21/06)
J5. Insider (Live at Stephen C. O'Connell Center, Gainesville, FL, 9/21/06) - Tom Petty & The Heartbreakers and Stevie Nicks
K1. Two Men Talking (Outtake, 2012)
K2. Fault Lines (2018 Remaster)
K3. Sins of My Youth (Early Take, 2012)
K4. Good Enough (Alternate Version, 2012) - Mudcrutch
L1. Something Good Coming (2018 Remaster)
L2. Save Your Water (2018 Remaster) - Mudcrutch
L3. Like a Diamond (Alternate Version, 2002)
L4. Hungry No More (Live at House of Blues, Boston, MA, 6/15/16) - Mudcrutch
Acquista il Cofanetto Nuovo Online:
Ascolta il brano "Gainesville":
Ascolta il brano "Keep A Little Soul":