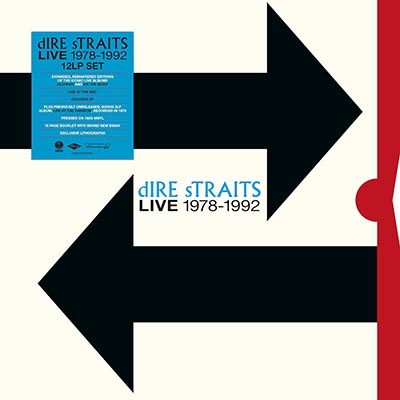 Descrizione:
"Live 1978-1992" è il secondo cofanetto ufficiale del gruppo rock Britannico Dire Straits, pubblicato il 3 Novembre 2023 su etichetta discografica Mercury. Il box contiene tutta la discografia live della band, quattro album dal vivo di cui uno inedito (Live At The Rainbow) e un album EP (Encores). In vendita, dal 3 Novembre 2023, il box esclusivo che contiene 12 vinili 180 grammi rimasterizzati, un libro di 16 pagine e una litografia. Tiratura limitata.
Tracklist:
- Alchemy - Dire Straits Live
A1 Once Upon A Time In The West
A2 Industrial Disease
B1 Expresso Love
B2 Romeo And Juliet
B3 Love Over Gold
C1 Private Investigations
C2 Sultans Of Swing
C3 Twisting By The Pool
D1 Two Young Lovers
D2 Portobello Belle
E1 Tunnel Of Love
E2 Solid Rock
F1 Telegraph Road
F2 Going Home - Theme From "Local Hero"
- On The Night
G1 Calling Elvis
G2 Walk Of Life
H1 Heavy Fuel
H2 Romeo And Juliet
I1 Private Investigations
I2 Sultans Of Swing
J1 Fade To Black
J2 Your Latest Trick
J3 When It Comes To You
J4 I Think I Love You Too Much
K1 You And Your Friend
K2 On Every Street
K3 Two Young Lovers
L1 Tunnel Of Love
M Telegraph Road
N1 Money For Nothing
N2 Brothers In Arms
- Encores
O1 Your Latest Trick
O2 The Bug
P1 Solid Rock
P2 Local Hero - Wild Theme
- Live At The BBC
Q1 Down To The Waterline
Q2 Six Blade Knife
Q3 Water Of Love
Q4 Wild West End
Q5 Sultans Of Swing
R1 Lions
R2 What's The Matter Baby?
R3 Tunnel Of Love
- Live At The Rainbow
S1 Down To The Waterline
S2 Six Blade Knife
S3 Once Upon A Time In The West
S4 Lady Writer
T1 Lions
T2 Sultans Of Swing
T3 Les Boys
T4 Portobello Belle
U1 News
U2 What's The Matter Baby?
U3 Setting Me Up
U4 In The Gallery
V1 Solid Rock
V2 Southbound Again
V3 Where Do You Think You're Going?
W1 Wild West End
W2 Twisting By The Pool
W3 Good Morning Little Schoolgirl
X1 That's Alright Mama
X2 Nadine
X3 Keep On Knocking